PPE and Eyebolt Inspection
PPE is of critical importance, and must be maintained to the highest standard. The 1992 PPE at work regulation requires that all PPE be regularly inspected, with BS EN 365:2004 and BS 8347:2005 outlining the regime and standards to which the inspection must be completed. 
Our robust PPE inspection package means you avoid unnecessary liabilities, and can operate with confidence in the safety of your equipment. Our inspectors are competent and qualified to inspect working at height PPE. Years of industry experience means we are well versed in the manufacturers requirements, as well as the legal obligations of the use of PPE. 
Inspections should be carried out; 
Prior to first use. 
At least at 6 monthly intervals thereafter or if the equipment is used frequently or in arduous environments then inspections at shorter intervals may be required.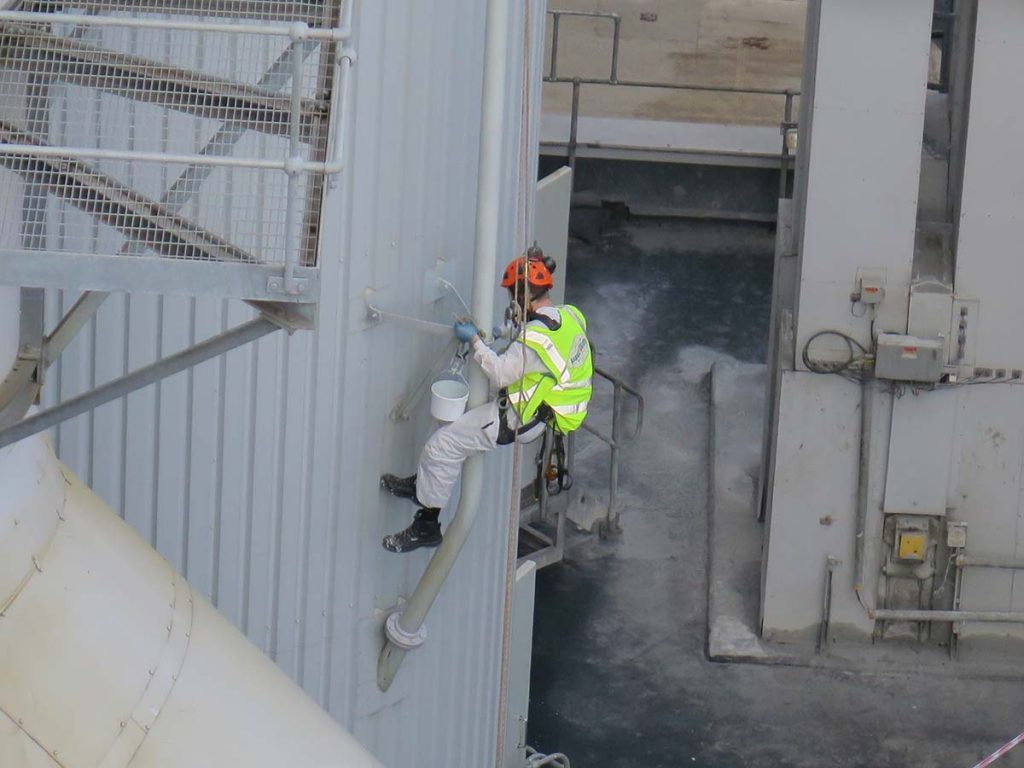 Eyebolt, Hanrail and Ladder Inspection
What are Eyebolts and Anchor Bolts?
Eyebolts and Anchor Bolts are extremely commonplace on buildings and structures throughout the UK and are primarily installed and used to create a safe system of work for operatives working at height. There are many different types of eyebolts that are used across a variety of applications such as safety eyebolts, scaffold eyebolts, fall arrest eyebolts and rope access eyebolts.
Anchor bolts and eyebolts come in various designs and specifications depending on whether the requirement is to use them internally or externally and also depending on the environment (exposure to saltwater would require a stainless-steel version) and the type of substrate they are being installed into and are tested and approved depending on their intended purpose such as Fall Restraint, Fall Arrest, Work Positioning or Rope Access.
Aspect3Sixty have trained and competent technicians that are able to undertake the installation, testing and certification of a wide variety of eyebolts and access systems.
Testing ensures the relevant systems are compliant with all the current safety standards including, BS EN 795:2012 (Class A Anchor Point), BS7883:2019, BS8610:2017, and LOLER 1998 and testing is required to be carried out by a trained and competent person within a 12-month period or 6 monthly for rope access.
Is Your Eyebolt or Man safe Anchor System Certified and Safe to Use?
Do you know when the last time your Eyebolts and Anchor Points were tested to ensure the safety of the operatives using them? Do you know if your system conforms to the current industry standards or if modifications and repairs are required?
Call us to arrange a no obligation site visit so that we can discuss your needs and how best to keep your employees and other contractors safe when they work at height on your premises.
All fixed and temporary access ladders that are used in the workplace are covered under the 1998 PUWER regulations (Provision and Use of Work Equipment Regulations). These regulations state that it is the responsibility of the duty holder to ensure that any equipment provided to employees and contractors is: suitable for use and the purpose it is intended to be used for, maintenance is completed regularly, and the system is tested for compliance on an annual basis by a competent external party.
Handrails and guardrails provide a safe and secure from of edge protection for roof areas where access is required. It is a requirement in accordance with BSEN 13374, that any Handrail and Guardrail system used for Work at Height is inspected at least once every 12 months or immediately following the system being used in anger.
Aspect3Sixtys trained and competent technicians are able to undertake a full site survey of your premises to determine which ladders and handrails fall under the requirements of PUWER and BSEN 13374. We can then undertake a thorough visual inspection of each item as well as designing an annual inspection schedule for you with each ladder or handrail being given an individual identification number and tag so that all future inspections are traceable and compliance is assured.
Call us now to arrange a free site visit so that we can discuss your requirements and ensure your compliance.
At Aspect3Sixty we care about your project. That means finding out what is important to you, and ensuring we meet your expectations. We have a track record for delivering projects on time and within budget, helping you to confidently plan your work. All our technicians are highly trained professionals, who are passionate about completing work to the highest standard. Accountability is important to us and we are proud to hold SafeContractor and CHAS accreditation, as well as ensuring all our technicians are IRATA qualified. Aspect3Sixty goes above and beyond to deliver solutions for your business.
Whatever your business, we can help.
Give us the details and we'll provide a solution.